Things are going a little slower than I would've hoped.
First of all, Flash CS5.5 stopped working the other day.
I tried uninstalling it and reinstalling it, and I got Flash to work again just this morning. But it's acting strange, because stuff like the CTRL+N command won't work. Right now, while I'm writing this, Flash will open, but soon after, it'll display an error with the InPageError description. so...
EDIT: Flash started to make my computer unable to do shit so I had to uninstall it. Stuff will be back in a lot of optimistic weeks, give or take a couple days.
Second of all, progress is as slow as a snail.
There isn't enough people in the team, but a team is useless without something to work on. And that something is the script. I'm the one in charge, and I procrastinate, so...
Third of all, I'm working on another short.
You know, the one I talked about in one of the news posts I made within this week. I can't hide the surprise any longer, so to keep myself sane, the new short is a recreation of a scene in Count Olaf's trial in The Penultimate Peril (Lemony Snicket's A Series of Unfortunate Events) So...
And to keep things interesting, here's a little shot from WAH? where Tom is trapped inside a watertank.
(This scene just popped up in my head... I'm planning to integrate it into an episode soon.)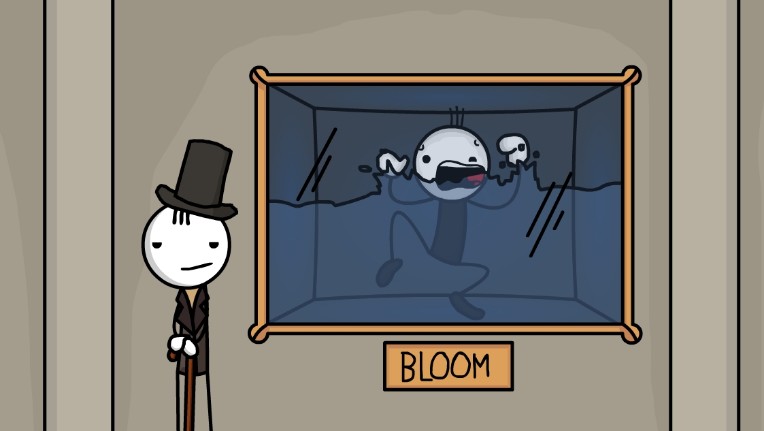 This picture also serves as evidence that WAH? will have color.
Called the painting "Bloom" after a Radiohead song which, along with Hans Zimmer, got transformed for BBC's Blue Planet II.
I really hope anyone would forgive me if the pilot wouldn't arrive in time, because it's really hard working with a small team with people I barely know.
---
*insert lame we're-hiring ad here*
LOOKING FOR COMPOSERS, ANIMATORS, VOICE ACTORS AND WRITERS WHO ARE VERSATILE (and will work without pay)!
WANNA ADD TO YOUR PORTFOLIO OR WORK ON SOMETHING NEW?
Forgive me for the all-caps, but we need your help. As I've said above, there isn't enough people in the team. So, wanna work for free? :|
I am bad at advertising. Jesus Christ.